Schlage Smart WiFi Deadbolt
Standing in the dark trying to unlock your door can be a safety issue, not to mention the inconvenience of trying to unlock a door when you have your hands loaded down with groceries or other items.
If you have multiple family members going in and out, it can be easy to misplace or lose a key.
But with the Smart WiFi deadbolt, you can have an added safety measure as well as convenience with your home life.
No more having to leave the door unlocked for family members and no fumbling for keys to get inside your home.
The easy to use keypad will light up when you press it, so that you're able to see even when it's dark outside.
The system is designed to be used by an app so that you can set up multiple access codes for the people who you want to have the ability to enter your home.
These codes can be set up as either temporary or permanent and you'll have the option to create up to 100 of these codes.
The system is designed to work with Alexa. That means you can see what's going on with the lock if someone unlocks your door.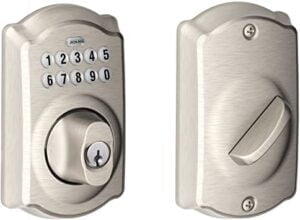 As an added plus, whenever the battery in the system reaches a certain point, Alexa will inform you so that you can get more batteries or have this feature set for automatic reorder.
Because the system comes with built-in WiFi, you won't have to go through the hassle of setting it up with the WiFi that you use in your home.
There are no central hubs you need to use or any extra devices you need to have to use the system.
When you set it up with the app, it lets you to allow or deny access to your home, even when you're not there.
Plus, you'll be able to have access to video of anyone who enters or leaves your home.
If you need to have a professional service done or have a package that's going to be delivered, you have the option of using your remote unlock feature.
The system has the ability to keep a record through the history log of the time and the day whenever someone entered or left your home using a code.
The keypad is durable with an easy touchscreen as well as convenient quick locking. It can also be used hands free if you have a device that gives you that choice.
If someone tries to bypass the lock by force, the system has an alarm that will alert you to any break-ins.
It's made to fit standard sized doors and is simple to install and set up thanks to the Snap 'n Stay feature.
In the event that the power goes out at your home, whatever codes that you've previously set up will still be able to be used.
Buy from Amazon, Click on the Banner